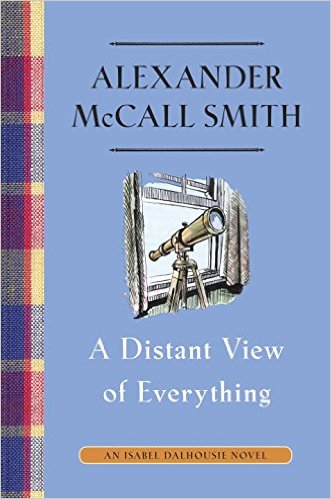 I am currently reading A Distant View, which is the 11th book in the Sunday Philosophy series by Alexander McCall Smith.   
I started reading this series back towards the end of June and cannot believe I have finished 11 books! They are quick reads and great for reading before bed, but it's time for me to move onto something else.  I will finish the series, only 5 more to read, but at a later time. 
A new baby brings an abundance of joy to Isabel Dalhousie and her husband, Jamie—but Isabel's almost four-year-old son, Charlie, is none too keen on his newborn brother. In fact, Charlie refuses to acknowledge Magnus, and Isabel must find a way to impress upon her older son the patience and understanding that have served as guiding principles in her own life. These are, of course, the qualities that bring Bea Shandon, an old acquaintance of Isabel's, to seek her help in a tricky situation. Bea is something of a matchmaker and has brought together a cosmetic surgeon and a successful banker at her most recent dinner party. But new information comes to light about the cosmetic surgeon that causes Bea to doubt the auspiciousness of the match. Isabel agrees to find out more, but her inquiries take an unexpected turn, and she starts to wonder which of the two she should be investigating after all. As ever, her intelligence, quick wit, and deep empathy for others will come to her aid as she grapples with the issues that are her bread and butter: friendship and its duties, the obligation of truthfulness, and the importance of perspective. – from the authors site
I do love cozy mysteries and Alexander McCall Smith never disappoints. His books are always light and easy reads, with just the perfect touch of a good murder mystery.
On Audible I am listening to the Crow Trap by Ann Cleves. I enjoy listening to books while I knit and find them to be the perfect compliment to my knitting, especially on weekends before my hubby gets up.  I love all of Ann Cleeves books, she's another favorite author of mine.
So what to read next but not necessarily in this order…
Any Dream Will Do by Debbie Macomber 

Changing Habits by Debbie Macomber 

Into the Wilderness by Sara Donati

Anne Boleyn by Alison Weir

The Woman In White by Wilke Collins (Classic)

Wuthering Heights but Emily Bronte (Classic)

How to Make An American Quilt by Whitney Otto
Now to decide which one to read once I finish A Distant View of everything.