The weather has been so lovely here in Phoenix, so much so that I had an urge to cast on another sweater!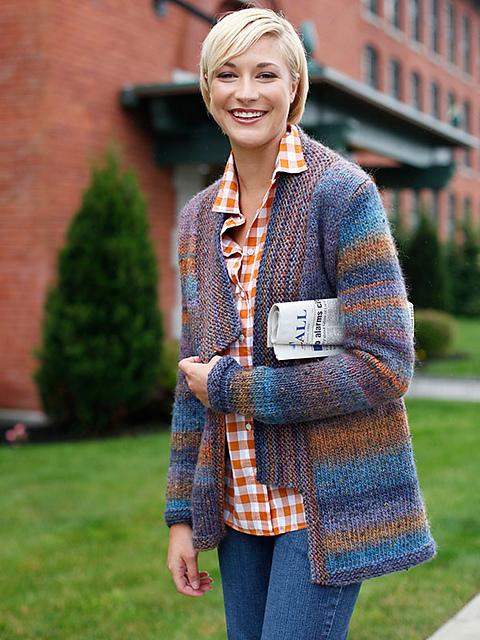 Courtesy of Berroco Inc
On my needles is Kipsap by the Berroco Design Team (free pattern).  For this project I'm using my stash of Rowan Hemp Tweed Chunky in the colorway Griege (a light oatmeal beige) and a US size 10 1/2 circular needle (Lykke Needles in Driftwood).  I haven't quite decided about the front neckband yet.  While I like the "whimsical" look, I prefer a more polished and neat looking neckband.  So I may do a garter stitch or rolled neckband.

This is a very easy pattern, very well written and one that I would say is perfect for that beginner knitter wanting to try a garment.  While this is a seamed piece, the construction is simple and it will be a snap to sew up.
I am almost finished with the back, with only three inches to go before I do the shaping of the neck,  and I am on my third skein of yarn.  I am enjoying this yarn, even if it looks like it has a bit of "veggie matter" in the  yarn.  It's very soft and rustic and I'm hoping it has a nice drape to it once blocked and worn.
I'm still working on the following projects …
Night's Watch in Squishy

Cozy Autum Socks
Favorite Scarf Ever in Handspun
I did have an idea regarding the front neckband and even bounced it off my hubby. 
I love the look of my Handspun scarf I'm working on (#3 on the list above) and thought it might be really awesome to use it for the neck band.  The colors go well together, it's earthy like the Hemp Tweed and it would give interest to the cardigan.
As mentioned in an early post, I have been thinking about incorporating my handspun with commercial yarns.  I personally think it would give more interest to the knitted garment and would be a nice touch of using my very own yarn creation.


Until next time ~ be creative !