Do you plot or plan your next project ?  I do and sometimes it takes a few days to narrow down exactly what I want to make, what yarn I can use from my stash or what I m need purchase and any other items that will need to be on hand to finish what I will be making.
Today, I "planned and plotted" my next three sweaters that I want to make.  Two of these designs I've had my eye on for quite a while and the third was by pure chance.  I even took advantage of the closeout sale on Classic Elite online at  Webs and can't wait for my yummy yarn to arrive!!!
I could not resist purchasing Weekender by Andrea Mowry and was super excited to find out that she was offering 25% off all her patterns in honor of her birthday.  I love this design for it's shear simplicity and construction.  It's got comfortable written all over it and since close to 1,500 sweaters have been made I think this will be a winner.  
For this design I have chosen Classic Elite Liberty Wool in the color Slate.  I'm very excited about this project and look forward to casting it on soon.
It's time for my annual Birthday Sale!! Please enjoy 25% of all my self published patterns with the coupon code BIRTHDAY35 until 8/8/18 at midnight EST!! Thank you for another awesome year in this AMAZING community!!
Weekender – photo courtesy of Andrea Mary

I also decided to make a Classic Elite design by Susan Mills called Big Liberty Wool Yoke Pullover.  This is a bulky knit with a simple design around the yoke.  This will be my very first colorwork project and I'm quite stoked!!!  

For this project I purchased Big Liberty Wool in Azul for the main color (body) and Sisal for the colorwork design.  
Photo Courtesy of Classic Elite

The last sweater that I decided on was by pure chance.  Somersworth by Tonia Barry is a classic raglan sleeve style sweater with a front placket and textured cuffs.  What nailed it for me on this design was truly the cuffs.  There are three colors and three textured stitch motifs used, giving this classic sweater a unique touch.

For this sweater I purchase Classic Elite Adelaide in Oatmeal for the main color (body) and one skein each of Ivy, Dried Rose and Plum for the cuffs.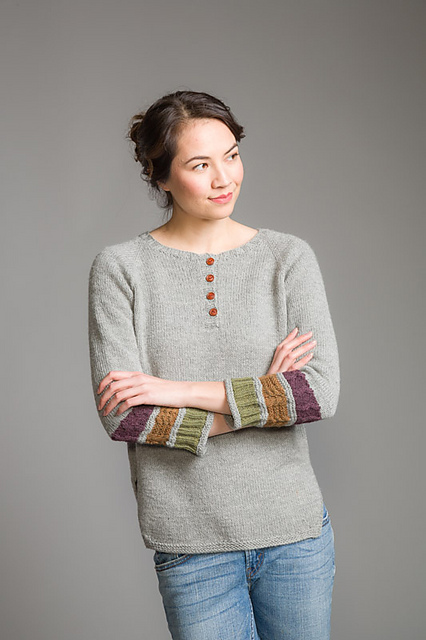 Photo Courtesy of Classic Elite
You may be wondering why the choice of Classic Elite for all three projects and truly it's twofold.  Buying yarn that I've lusted over for quite a while that is now on sale is one reason but the main reason is my pure love of Classic Elite and I'm quite heartbroken that another favorite yarn company has closed their doors.  Once this yarn is gone from all the shelves and online sources, there will be no more to be had unless purchased from a destash sale or an eBay listing.  For me this truly is a sad day.

If you haven't heard about Classic Elite, take a moment to read their blog post, as well as a wonderful post by Kristin Nicholas.  It's truly sad when our "local" stores close, but it's even sadder to see companies within our country close.  

I leave you with this thought from Kristin's post as it really rings home to me.
Failure of the consumer to realize that most yarn companies are really only small companies that look big. I have heard knitters say – "Oh I won't buy from any big company – I only buy independent." Little do those knitters realize that most of the "big yarn companies" really aren't big at all but Mom and Pop businesses who have bank loans and employ folks in their local towns to help them spread the yarn love through the world. 
Until next time ~ stay creative!